While it may be the least flashy tool in the marketing toolbox, referrals are a business's best friend.
Larger marketing productions such as commercials, sponsorships, and product placement (anyone catch that Dr. Pepper can in the Game of Thrones finale?) might make more of a splash, but the fact is that 85% of small businesses get customers through word of mouth.
The time-tested power of word of mouth lies in its authenticity. We consumers, tend to be a cynical bunch, and many of us detest being sold to. But a product recommendation from someone we know and trust can cut through our fortress of cynictude. It's not a paid spokesman who's telling us to buy that cereal, it's Dave, your old college roommate. Everyone loves Dave.
Unlike other marketing methods, referrals depend more on consumers communicating with each other than businesses communicating with consumers, and social media has amplified the consumer's communicative powers by 1000%.  With just a few clicks, anyone can promote a product or service to an unfathomable number of users.
To give you an idea of just how potent a force social media is on referral marketing, get a load of this. As of 2014, 71 percent of consumers were more likely to make a purchase based on social media referrals. Couple that with the fact that 77 percent of consumers trust family and friends for product recommendations, and you might look at Uncle Greg's Facebook status about his new grill in a completely different light.
What Constitutes A Social Media Referral?
In the most general of terms, any time a user shares something on social media, about a business, constitutes a social media referral. Whether someone is writing a product recommendation or sharing a blog post, they're spreading the word throughout their network, and giving those in their network an opportunity to engage with that business.
A social media referral can take the form of:
A Facebook post sharing a positive customer experience.
A Pinterest pin of a product.
Mentioning a business by name on Twitter.
A post in a LinkedIn group plugging a friend's business.
And so much more.
Use Social Sharing Widgets
Never underestimate mankind's capacity for laziness. If something typically requires three clicks, you can be sure that someone out there thinks that's just two clicks too many.
When gunning for referrals, you're on a mission to simplify. It's your job to make it as easy as possible for people to share your content. Social sharing widgets serve as a visual reminder to users. They say yes, you can share this, and they streamline the sharing process.
Use a service like ShareThis or Sharrre to make your website or blog shareable.
Participate In The Conversation
When it comes to social media referrals, half the battle is getting your brand in front of people. A lesser business might take that as a sign to start spamming social media with impersonal, overly-salesy content, but that tactic can quickly backfire.
Instead, your business should strive to communicate with others on a human level. Start by initiating a conversation or contributing to one. Interacting with your audience will build trust and rapport, and a 2013 study by the Internet Advertising Bureau found that 90 percent of people would recommend a brand to others after interacting with the company on social media.
There are a handful of ways to participate in the conversation. You can:
Ask your followers an engaging question.
Contact other businesses.
Comment on someone else's tweet or post.
Live tweet an event.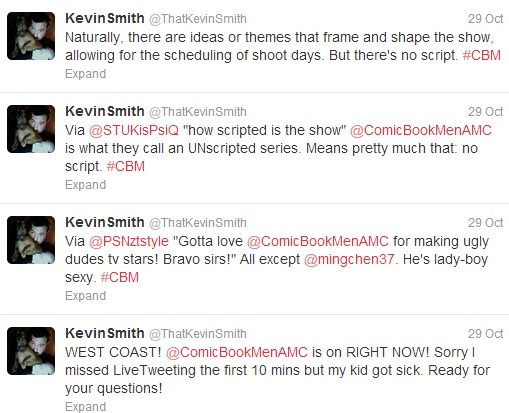 Offer Incentives
You can always take a more direct approach in soliciting referrals by offering incentives in exchange for shares, retweets, and shoutouts.
Consider holding a raffle in which users must share something specified by the company (website homepage, special announcement, news story, or even the contest itself) to enter. Reward the winner(s) with a coupon for your products or services. But be aware that different social platforms have different contest rules. Twitter, for instance, allows contest hosts to "offer prizes for tweeting a particular update, for following a particular user, or for posting updates with a specific hashtag."
Another incentivization strategy requires a little more nuance. Take the time to find a customer who has already given your business a referral, then surprise them with a gift. Publicize this random act of kindness through your social media channels to establish the precedent that your business rewards loyal customers. Users may be more tempted to refer your business now that they know a referral might net them something nice.
Create Your Own Referral Network
A strong referral network is a gift that keeps on giving, sort of like Santa if he suffered from short-term memory loss. By keeping customers inside a curated circle of top-quality service providers, you're not only giving your customers real value, you're creating a lead-producing machine.
A referral network should include a diverse selection of service providers who, as a unit, can meet all of a client's needs. For example, if you're a graphic designer, your referral network might be populated with web developers, writers, photographers, marketers, and SEO specialists. Then, if a photographer in your network hears that a client needs a new logo, they can point that client in your direction. If you're an accountant, your referral network might consist of financial advisors, realtors, and tax analysts. If a financial adviser is helping a client save money for a house, they can refer that client to you when they're ready to start house hunting.
So how can you use social media to create your referral network?
The first step is to identify potential members.
If you're using Twitter, find and follow other users who work in a niche that complements your own. Start by retweeting them, then mention them, or their products in one of your tweets. Eventually, you'll want to send them a direct message and introduce yourself. Make sure that the people you're reaching out to are people whose work you respect. Your goal should be to assemble a network of service providers. They must be so good at what they do that clients will never want to look anywhere else.
If you're using LinkedIn, join an interest group related to your field. If you're a freelance writer, for instance, check out The Freelance Writer's Connection. If you're a marketer, take a look at Inbound Marketers – For Marketing Professionals. These groups help you keep up with industry trends, provide valuable insight into your chosen profession, and offer a safe space for like-minded individuals to connect. By participating in threads, asking and offering advice, and contributing content, you'll get to know some of your fellow group members and develop a relationship.
Facebook is surprisingly similar to LinkedIn when creating a referral network. Like LinkedIn, Facebook also has interest groups, so find a relevant group and get involved. If I may share a personal anecdote, my sister – a freelance photographer – recently joined a private Facebook group for Denver-based female photographers. She tells me that everyone in the group is extremely supportive of one another, and works hard to help each other succeed. My sister has already benefited from this altruism by landing her fair share of photography jobs through the group. She also formed professional relationships with a few of the group members, and they each recommend each other for jobs if they have a full plate.
Once you've built up a rapport with a potential member of your referral network, it's time to lay your cards on the table and ask them to join. During this conversation, try to emphasize how you can help them rather than how they can help you. Explain how joining your referral network will enhance their business. Will they be introduced to new clients? Higher paying clients? Joint projects?
When you've secured a healthy ensemble of highly skilled service providers, the last step is to summon them all under one digital roof. Carve out your own private corner of the internet where everyone can come together to communicate, collaborate, and coordinate. Perhaps you could create your own LinkedIn or Facebook group, or use a service like Slack, HipChat, or Basecamp. You might start an email newsletter or initiate a weekly Google Hangout.
Conclusion
You can reach so many consumers with social media, but reaching isn't the same as engaging. To maximize your social media referrals, you have to encourage users to plug your business by simplifying and incentivizing the sharing process. Although the world of social media is digital by nature, you need to connect with your audience on a human level. Participate in the conversation and form genuine relationships with users, consumers, and fellow service providers.